Last updated: Sept 11, 2020
Keeping our distance has been hard, but we've spent a LOT of time planning our harvest activities for this year. Due to COVID-19, we'll be operating a little differently, but we're looking forward to seeing you again!
---
Hours
To Sept 25: DAILY 10 am – 6 pm
Sept 26 to Oct 25: DAILY 9 am to 6 pm
Oct 26 onward: DAILY 10 am to 5 pm
Did you know? We're open 363 days a year!! (We close Dec 25 & 26)
---
Season Highlights: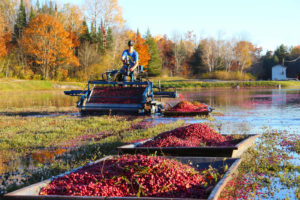 ---
Booking
Due to COVID-19 all activities (except shopping!) must be pre-booked and pre-paid this year. Scroll down for more information on all activities.
Up to Sept 25 – BOOK HERE
Sept 26 – Oct 25 (Harvest) – BOOK HERE
Oct 26 to Nov 30 – BOOK HERE
---
Bala Cranberry Festival
We're open! The 2020 Bala Cranberry Festival event has been cancelled. It's when the town of Bala celebrates the harvest on the weekend after Thanksgiving. We support their decision, but it doesn't change what we do. Our harvest season runs from Sept 26 to Oct 25 and we're open everyday with our regular activities.
Plunge FAQ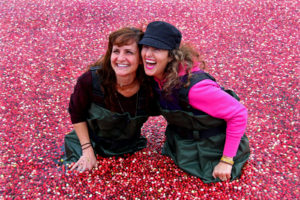 Sept 26 – Oct 25
must be booked ahead
part of the All Access Pass on Weekends
can be booked separately during the week
private bookings available
we supply the chest waders, you bring the camera
10-15 minute walk (with a short, steep hill) to get there
must be 4′ 6″ to participate
---
Wagon Tour FAQ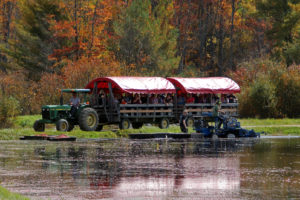 Sept 26 – Oct 25
part of All Access Pass on Weekends
can be booked separately on weekdays
allow 30 minutes
This is the 'Bog' part of our 'Bog to Bottle Tour'
this is a walking tour at other times of year
For your safety:

masks must be worn on the wagon
hands must be sanitized before getting on the wagon
high touch surfaces are sanitized after every tour
---
Wine Tasting FAQ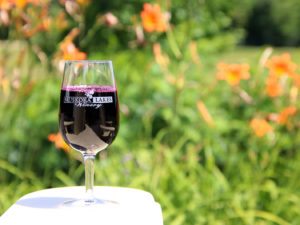 ---
Trail FAQ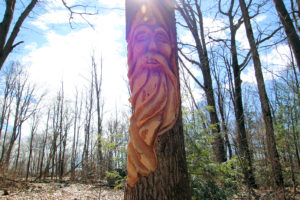 Farm access (beyond the store/patio area) requires a trail pass
Includes access to the cranberry bogs, the Cranberry Plunge and over 10 km of marked trails with unique features and surprise discoveries
Must be pre-booked and pre-paid

$10/car daily (limited availability)

pets on leashes permitted
---
Eats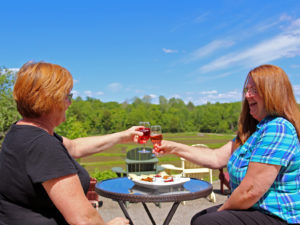 No outside food is permitted on the farm.
From Sept 26 – Oct 25, our patio beside the store can be booked for a Wine Flight & Cheese experience.
We have another patio, Muskoka chairs and several picnic tables available. Pre-packaged food (cheese plates, hummus, salsa and other goodies) can be purchased in the store and enjoyed in designated areas with a glass of wine, cider or spritzer.
When picking up your food and drink, please register your licence plate with us if you are staying longer than 1 hour
---
Shopping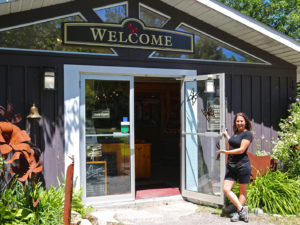 fresh cranberries available Sept 26!
we are limiting the number of people in the store – please wait at the door to be welcomed in
select 1 member of your group to shop

it helps reduce line ups and waiting – please be kind!
we love seeing families, but our store is not child friendly right now – thanks for understanding!

sanitize your hands upon entry
please wear a mask
maintain at least 6 feet of social distance
parking is free but limited to 1 hour
Shipping and Curb-side pickup options are also available
Starting Sept 26, we will have drive-through in addition to curbside pickup
---
Parking FAQ
Parking is a little different this year. Because we have to manage visitation, parking on the road is not permitted. Access is limited to farm parking lots only.
shopping

free, 1 hour maximum
when shopping lot is full, drive-through and curbside pick up options are available

bookings

to manage visitation, all cars must be registered
$10/car includes access bracelets to farm & trails
General FAQ
What will I see?

That depends. As a working farm, what we do depends on timing, weather, staffing, equipment breakdowns, etc. The good news is, we offer visitors lots of ways to learn about what we do – tours, wine tasting, trails and more.

Do you serve food?

Our indoor café is currently closed, but we have outdoor seating and prepackaged food available along with wine, cider and spritzer by the glass
No outside food is permitted on the farm

Are pets allowed?

pets on leashes are welcome, just not in the buildings

Is there an entry fee?

There is no charge to come to the store/café area of the farm, but there are fees to explore the farm and participate in activities

Stay, Eat & Play: here are two great sources for area information:
Do you accept credit cards?

Yes, Debit, Visa and MasterCard are all accepted

Do you have washrooms?

Yes
washrooms are porta potties during our harvest season (kinder to our septic system)
hand washing stations and sanitizer will be available in various locations