Harvest 2018 begins Sept 22!
Harvest is the most exciting time of the year. It's when we (quite literally) get to see the fruit of our labour! We start two weekends before Canadian Thanksgiving and are usually finished by October 31st. We harvest only once a year. We have 27 acres to pick and produce around 300,000-400,000 lbs of cranberries.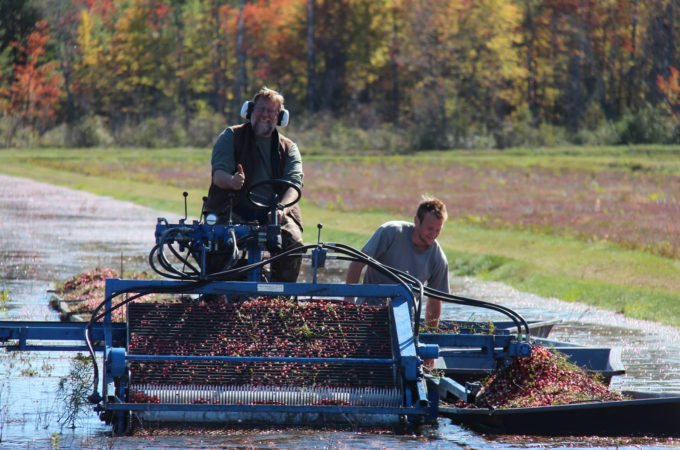 Cranberries are grown and harvested like no other crop in the world. They're also native only to North America. That makes them a fascinating part of our heritage! Drop by and learn about this unique crop!
Harvest Highlights:
Every Day:
Harvest Hours (until Oct 31): 9-6 daily
Daily Bog to Bottle Tour @ 11, 1 & 3

includes guided tour and tutored wine tasting
during harvest, the guided tour is on the wagon

See the harvesting and packinghouse operations
Enjoy a Wine Tasting
Shop in The Cranberry Emporium
Take The Cranberry Plunge (dates to be determined)
Sample cranberry goodies at the Cranberry Cafe (Open daily Sept 29 – Oct 14)
Hike the Trails
Hunt for Geocaches
Try kids' activities like Critter Catching
Weekends:
All Day Wagon Tours (weekends between Sept 22 & Oct 14)
Helicopter Rides (weekends between Sept 29 & Oct 14)
Take The Cranberry Plunge (dates to be determined)
Bala Cranberry Festival
Always the weekend after Thanksgiving!
click here for more information
FAQ
Will I see floating cranberries?
You will see cranberries – lots of them! We don't look exactly like the commercials; floating lakes of cranberries are created by a machine that beats the vines to knock off all the cranberries. Our picker gently rakes the cranberries off the vines because it makes for better quality fruit. The videos below show what harvesting looks like here.
You will see:
cranberries being picked with our Getzinger retracto-tooth picker
cranberries in shallow boats
cranberries floating under the water
cranberries floating at the surface of the water
cranberries growing on low vines
boats of cranberries being loaded into a truck
cranberries going through the outside packing line (cleaning and drying)
cranberries going through the packinghouse (mills, hand sorting, packaging)
Do I need rubber boots?
No. Places where visitors walk are high and dry. Our walkways are covered in gravel and are reasonably level.
Do you charge for parking?
No. Parking is free.
Do you charge admission?
No. There is no charge to visit the farm. You only pay for the activities you're interested in doing.
What can we do, how much does it cost, how long does it take?
Everyone is welcome to shop in our store (which opens into the packinghouse, so you can watch your fresh cranberries being sorted and packaged while you wait!)
Wagon Tours (approximately 20 minutes): 2018 prices to be determined
Wine Tasting (approximately 20 minutes): 2018 prices to be determined
Cranberry Plunge: 2018 prices to be determined
Hiking Trails: 2018 prices to be determined
All farm access pass:

adults (wagon tour, wine tasting, cranberry plunge, trail pass)
designated drivers (wagon tour, cranberry plunge, trail pass)
kids (wagon tour, cranberry plunge, trail pass)

Helicopter Rides (not included in all access pass): 2018 price to be determined
Is there somewhere to eat?
the Cranberry Cafe (an outdoor food tent) is open Sept 29 – Oct 14
we serve wine and a local cheese plate on our patio
Are there washrooms?
we rent porta-potties during our harvest season – they're more environmentally friendly for our septic system
Harvest Videos
Check out some cool harvest footage!