Our Bog to Bottle Discovery is a guided journey from cranberry bog to Muskoka in a bottle.
We're so passionate about cranberries, we offer this tour three times a day, every day, year round. Seasonal and vintage changes mean there's always something new to discover.

This tour is so special, Canada Tourism Commission designated it a Canadian Signature Experience.
What makes it special? Cranberries are one of Canada's few native fruits, and this crimson berry comes packed with some surprising truths: cranberries don't grow in water, they're named for their flower and they make fantastic wine!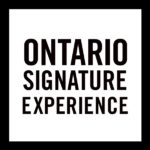 As Ontario's oldest cranberry farm, our cranberry story is also important to the province, causing Ontario Tourism to designate our Bog to Bottle Discovery an Ontario Signature Experience.
Tour Highlights:
Available Year-Round
Offered Daily @ 11, 1 & 3
Guided farm tour followed by a tutored wine tasting
During harvest, the tour portion is on the wagon, the rest of the year, it's a walking tour
Drop in or reserve ahead
Travel Trade:
Net rates and other normal terms of trade are available for our Bog to Bottle Experience. Please contact us for information.
For more Group Tour information, click here.
Photo Gallery: