Starts Sept 23, 2023!
For current offerings and information, click 'What's on Now' (above).
Harvest is the most exciting time of the year. It's when we (quite literally) get to see the fruit of our labour! We start two weekends before Canadian Thanksgiving and are usually finished by October 31st. We harvest only once a year. We have 27 acres to pick and produce around 300,000-400,000 lbs of cranberries.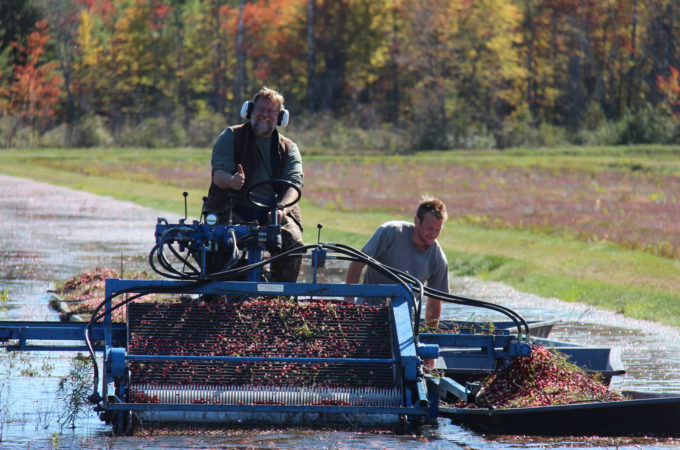 Cranberries are grown and harvested like no other crop in the world. They're also native only to North America. Drop by and learn about this unique crop!
Harvest Activities
Click here to book a Harvest Activity

Wagon Tours
Wine Tasting
Cranberry Plunge
Fresh cranberries
Hiking Trails
Beautiful fall scenery!
Bala Cranberry Festival
Always the weekend after Thanksgiving!
Click here for tickets to the Bala Cranberry Festival in town (not included in farm bookings)
Click here for more Festival information
FAQ
Can I just walk around?
No. It is not possible to 'just walk around,' take pictures and 'see the harvest' without an access pass. Farm & Trail Access may be purchased separately during the week. On weekends, it is part of the All Access Pass.
Will I see floating cranberries?
With access to the farm, you will see cranberries – lots of them! BUT, we don't always look like the commercials. We have three ways we can harvest – dry rake, wet rake and beating. You are visiting a working farm – which means we can't always predict what will be going on during your visit.
The videos below show what harvesting often looks like here.
You may see:
cranberries being dry harvested (without water – usually early in the harvest season)
cranberries being picked with our Getzinger retracto-tooth picker (with water into shallow boats – usually mid-season)
cranberries being 'beaten' (cranberries floating on the water – usually late in the harvest season after Festival weekend)
cranberries growing on low vines
cranberries being loaded for transport to the packinghouse
cranberries going through the packinghouse (mills, hand sorting, packaging)
What's the best time to see the harvest?
This is a hard question to answer. Harvesting activities are going on everyday, but remember, we're a working farm. That means we manage a lot of variables – weather, equipment, staff, farm layout, picking/packing speeds, varying fruit conditions, etc. We can't predict exactly what you'll see when you visit, even if you call and ask us on the day you're planning to visit. The good new is, we do offer activities that are geared to visitors and are predictable. Check out our Harvest Activities here.
What about crowds?
We used to operate on a 'drop in' basis, which created crowds, long lines and parking problems
We now pre-book all our activities to ensure we do not exceed capacity
We will accommodate 'drop-ins' only if we have availability – weekends are usually sold out
What about parking?
Parking is limited!

Parking on the road not permitted
parking for shopping has a 30 minute limit
all other parking reserved through bookings
'Drop-ins' will only be accommodated only if we have availability – otherwise you will not be able to park at the farm
Do I need hip waders?
No. Places where visitors walk are not flooded. Our walkways are covered in gravel, but still, they can get muddy, and the ground can be uneven. Appropriate footwear for the weather and outdoors is highly recommended.
Do you charge admission?
There is no charge to visit the store/café area of the farm. There is a fee for all other activities, and we recommend you book ahead to avoid disappointment!
Are there washrooms?
we rent porta-potties during our harvest season – they're environmentally friendly for our septic system
Harvest Videos
Check out some cool harvest footage!